---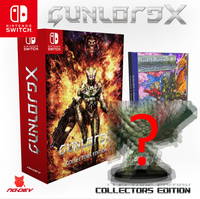 SOLD OUT

Pre-order / précommande / Vorbestellung
Pre-orders open on 8. May 2022 21:00 (9 PM CEST).

Planned shipping:  Starts 19th July. Will take about 3 weeks to ship all orders.
Important we need to change the deal. The figurine can't be produced. For details see News Blog.
 The 3 new acrylic figurines (the shown box is from the old LE)

As this is a pre-order we aren't allowed to accept PayPal. Only Credit Card and Klarna payments are possible.

The Collector Edition is exclusive to NGDEV-Direct
The proceeds of this special release will be used to kick start Gunlord 2. More information about this can be found in our blog

Limited to 500 units
For the CE we are using a mixed pre-order model. The expected sales number is 500 units but the maximum limit is 1000 units.
We keep it open for 1 week until either 1000 units are sold or the time runs out.
We round up to the nearest 100, so if we have 550 orders we will produce 600. Production starts in June.

Orders with a CE/LE or with more than one item get shipped boxed.
The CE is shipped boxed in a box.
Officially licensed Nintendo Switch game.
Gunlord X is a vastly improved and extended remaster of the critically acclaimed game Gunlord, originally developed for Neo Geo in 2012. Several new features were added, including a widescreen mode, new and improved stages, enemies and bosses!
Gunlord X is an exploration Jump'n'Shoot game.
The Collector Edition (CE) comes with:
Gunlord X game for Nintendo Switch
Collector Edition custom cardboard box
Painted Figurine (CE) "Chibi Gunlord"

NEW: 3 acrylic figurines
Printed cloth map (CE) "World of Gunlord"

Soundtrack CD / 23 tracks (CE exclusive art design / music is the same)

Manual mini booklet
Set of 5 postcards
Set of 3 bookmark stickers
Sticker sheet (CE)
numbering printed on the box

Approximate size of the CE Edition box: tbd.
Features added to Gunlord X:
Enlarged levels offering new secrets and challenges.
4 new boss enemies
New Jet Pack action in a horizontal shmup stage
Earn continues by collecting all big diamonds per stage.
Autosaving level progression. Finishing a level allows you to restart from the last level you died on.
Accomplishment and statistics screens
Newgame+ mode for speedrunners
Increased the viewport to support 16:9 widescreen
Scanline/RGB CRT TV shader
Increased sprite/particle effects
Alpha blending special FX
Nice parallax scrolling elements
Improved controls (direct control over the 360 snake beam with R Stick)
Optional modern twin stick controls (control movement and shooting direction independently)
Fully customizable controls
Improved difficulty curve
Rebalanced weapon powerlevels
Stable 60fps in both docked/undocked mode
HD Rumble
Supported languages:
English
French
German
Spanish
Italian
USK rating: 12
The age rating is not on the box. It's only on the cartridge.

Hinweis fuer Deutsche Kunden:

Verkauf nur an Volljährige.
Der Versand erfolgt als DHL 2KG Paket inkl. ab 18 Alterssichtprüfung

Notice for non EU countries: all shipments may be subject to import charges.
For more information about customs and VAT please check with your local customs office.