---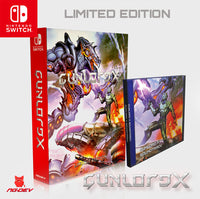 Out of stock and out of print. 
Mostly Gunlord X Limited Edition (Nintendo Switch) 2nd print. But can be 1st print too (silver serial number sticker).
2nd print run: less than 199 of 500 units available. (1st print was 1000 units)
Limited Edition exclusive to NGDEV-Direct
Orders with a CE/LE or with more than one item get shipped boxed.
Officially licensed Nintendo Switch game
Gunlord X is a vastly improved and extended remaster of the critically acclaimed game Gunlord, originally developed for Neo Geo in 2012. Several new features were added, including a widescreen mode, new and improved stages, enemies and bosses!
Gunlord X is an exploration Jump'n'Shoot game.
The Limited Edition (LE) comes with:
Gunlord X game for Nintendo Switch
Limited Edition custom cardboard box
Soundtrack CD / 23 tracks
Manual mini booklet
Set of 5 postcards
Set of 3 bookmark stickers
numbering printed on the box (2nd print specific)

Approximate size of the LE Edition box: 17,2cm x 13,8cm x 2,5cm
The LE is shipped boxed in a box.
Features added to Gunlord X:
Enlarged levels offering new secrets and challenges.
4 new boss enemies
New Jet Pack action in a horizontal shmup stage
Earn continues by collecting all big diamonds per stage.
Autosaving level progression. Finishing a level allows you to restart from the last level you died on.
Accomplishment and statistics screens
Newgame+ mode for speedrunners
Increased the viewport to support 16:9 widescreen
Scanline/RGB CRT TV shader
Increased sprite/particle effects
Alpha blending special FX
Nice parallax scrolling elements
Improved controls (direct control over the 360 snake beam with R Stick)
Optional modern twin stick controls (control movement and shooting direction independently)
Fully customizable controls
Improved difficulty curve
Rebalanced weapon powerlevels
Stable 60fps in both docked/undocked mode
HD Rumble
Supported languages:
English
French
German
Spanish
Italian
USK rating: 12
The age rating is not on the box. It's only on the cartridge.

Hinweis fuer Deutsche Kunden:

Verkauf nur an Volljährige.
Der Versand erfolgt als DHL 2KG Paket inkl. ab 18 Alterssichtprüfung

Notice for non EU countries: all shipments may be subject to import charges.
For more information about customs and VAT please check with your local customs office.