---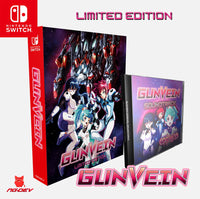 Pre-order / précommande / Vorbestellung
Pre-orders are open for batch 1:  14th October 2023 21:00 CEST (9 PM).
Planned shipping February 2024 together with RE
As this is a pre-order we aren't allowed to accept PayPal. Only Credit Card and Klarna payments are possible. Paypal purchases will be possible in January 2024.
Overall limitation is 1500 units. For now we will only make 1000 units available and the remaining games will be made available again in February 2024 as a in-stock order that can be sold via PayPal.

The limit per order is 1 units of each. So max is 1x LE + 1x RE
Gunvein Limited Edition (Nintendo Switch)
Orders with a CE/LE or with more than one item get shipped boxed.
Officially licensed Nintendo Switch game
Gunvein is an intense, dynamic bullet hell STG inspired by the arcade masterpieces of CAVE, Taito and Raizing/8ing.

Screen domination is vital - use your lock ons & charged energy blasts to overwhelm enemies before they overwhelm you.

Aggressive play is rewarded with resources that can be used to temporarily power up your shot, or to unleash a devastating screen clearing Bomb. Use this to create destructive feedback loops!

Score isn't merely a number - the points you accrue come back to you as extra lives & currency for the game's shop system.

Features

• Standard/Console Mode
A mode which provides a satisfying level of challenge for those who don't seek out 1 credit clears or high scores. Balanced checkpoints & a shop system which makes sure that no restart is wasted. No practice modes required, learn by playing!

• Arcade Mode
See how far you can get with a limited stock of lives & no continues! Alternatively, take advantage of the Freeplay Mode to relax or practice!

• Roguelike Arrange Mode
Test your reflexes & decision making in procedurally generated versions of the game's 5 stages! Carefully designed to capture the intensity, smooth flow/pacing and encounter variety of hand crafted stages.

• Local leaderboards

• Convenient Practice Tools
The Limited Edition (LE) comes with:


Gunvein game for Nintendo Switch (latest and final software version)
Limited Edition custom cardboard box
Soundtrack CD
Manual mini booklet
Set of 4 postcards (included within the box)
3 Bookmark stickers (included within the box)
Numbering printed on the box
Supported menu languages:
USK rating: 12
The age rating is not on the box. It's only on the cartridge.
Hinweis für Deutsche Kunden:

Verkauf nur an Volljährige.
Der Versand erfolgt als DHL 2KG Paket inkl. ab 18 Alterssichtprüfung
Notice for non EU countries: all shipments may be subject to import charges.
For more information about customs and VAT please check with your local customs office.