---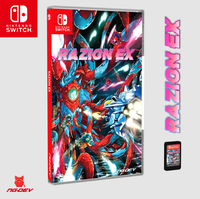 Sold out until final reprint in 2024
Pre-order / précommande / Vorbestellung
Planned shipping January 2024 together with CE

The Switch gamecards are already on stock (using the final software version).

As this is a pre-order we aren't allowed to accept PayPal. Only Credit Card and Klarna payments are possible.

This is only a small print run of 1000 units combined (CE+RE). But the game is eligible for a final reprint in 2024.

Razion EX Regular (Nintendo Switch)

Orders with a CE/LE or with more than one item get shipped boxed.
Officially licensed Nintendo Switch game
RAZION EX is a horizontal 16 bit CGI shooting game.
The score system is based on growing gold cubes and using the beam
It has 3 game modes (NOVICE/NORMAL/MANIAC).

Novice mode is significantly easier and will allow more people to enjoy the great graphics and music.

Game
    6 stages with varied settings
    6 huge end bosses
    7 sub bosses
    3 game modes
    Rendered 16-bit CGI graphics
    Horizontal shooting game
    60 fps


The RE/Regular Edition comes with:
Razion EX game for Nintendo Switch (latest and final software version)

Manual mini booklet
Product page


Changes for EX version:

- reworked game play
- re-balanced and reduced difficulty
- added bullet canceling for certain enemies
- reworked controls and ship movements
- upgraded graphics and added 32 bit effects
- upgraded to widescreen
- added scanline filter
- slightly reworked levels
- reworked scoring mechanics
- unlock-able continues
- added training mode for unlocked levels and bosses
- added small ending
- CD quality music

Supported menu languages:
English
French
German
Spanish
Italian
USK rating: 12
The age rating is not on the box. It's only on the cartridge.

Hinweis für Deutsche Kunden:

Verkauf nur an Volljährige.
Der Versand erfolgt als DHL 2KG Paket inkl. ab 18 Alterssichtprüfung

Notice for non EU countries: all shipments may be subject to import charges.
For more information about customs and VAT please check with your local customs office.